Our Fomin Welcome Kit was designed to kickstart your journey into a clean that is good for you, your family, and our planet. Whether you are at home or on the go, our eco-friendly products are tough on germs and easy on the environment.
Regular price
$60.00 USD
Sale price
$45.00 USD
Unit price
per
Sale
Sold out
Here's what you'll get:
View full details
90 Day Returns
Refill ships in 45 days
3 days before your next shipment is set to go through, we will email you a reminder. By default, it will be another 6-Pack of soap tablets. No monthly commitments.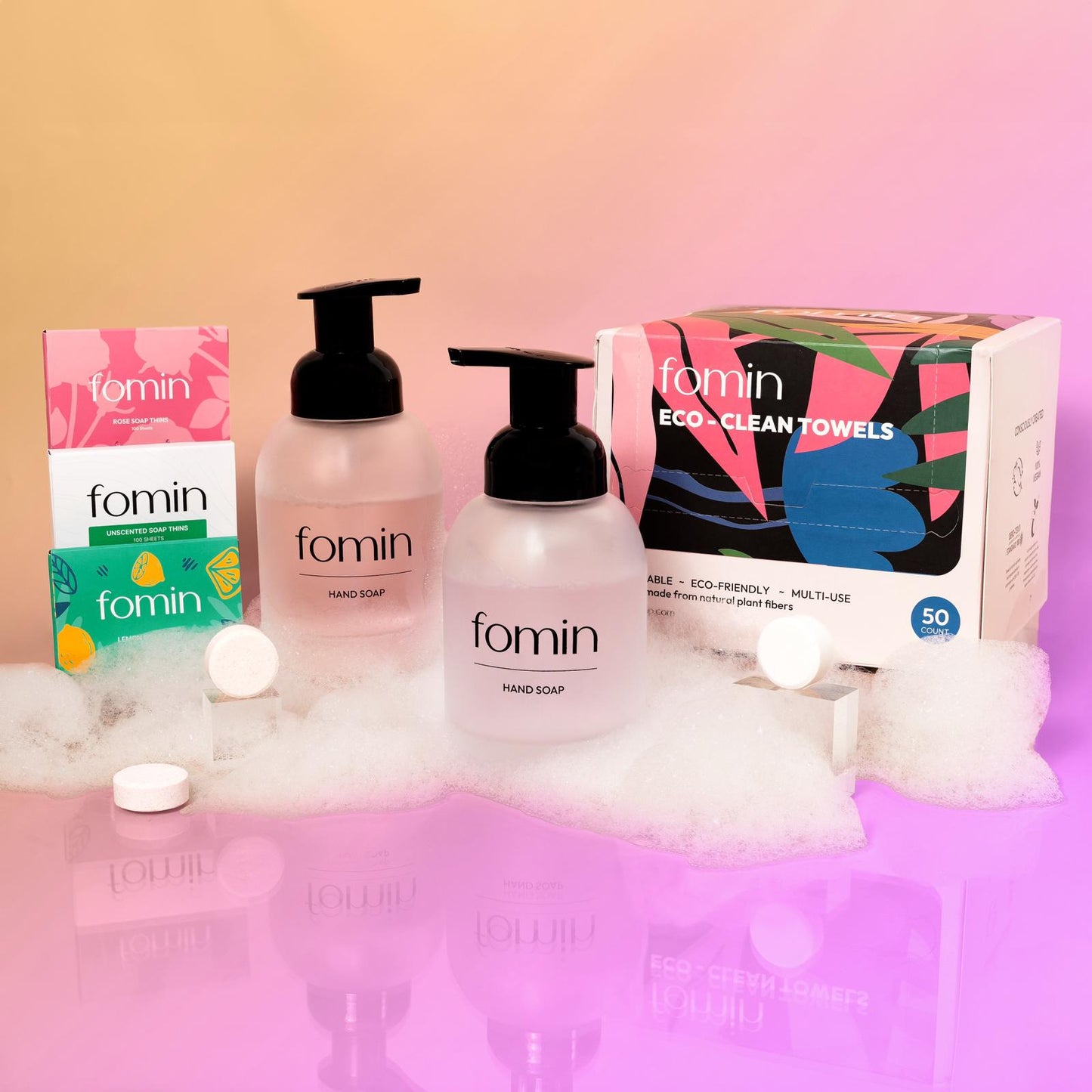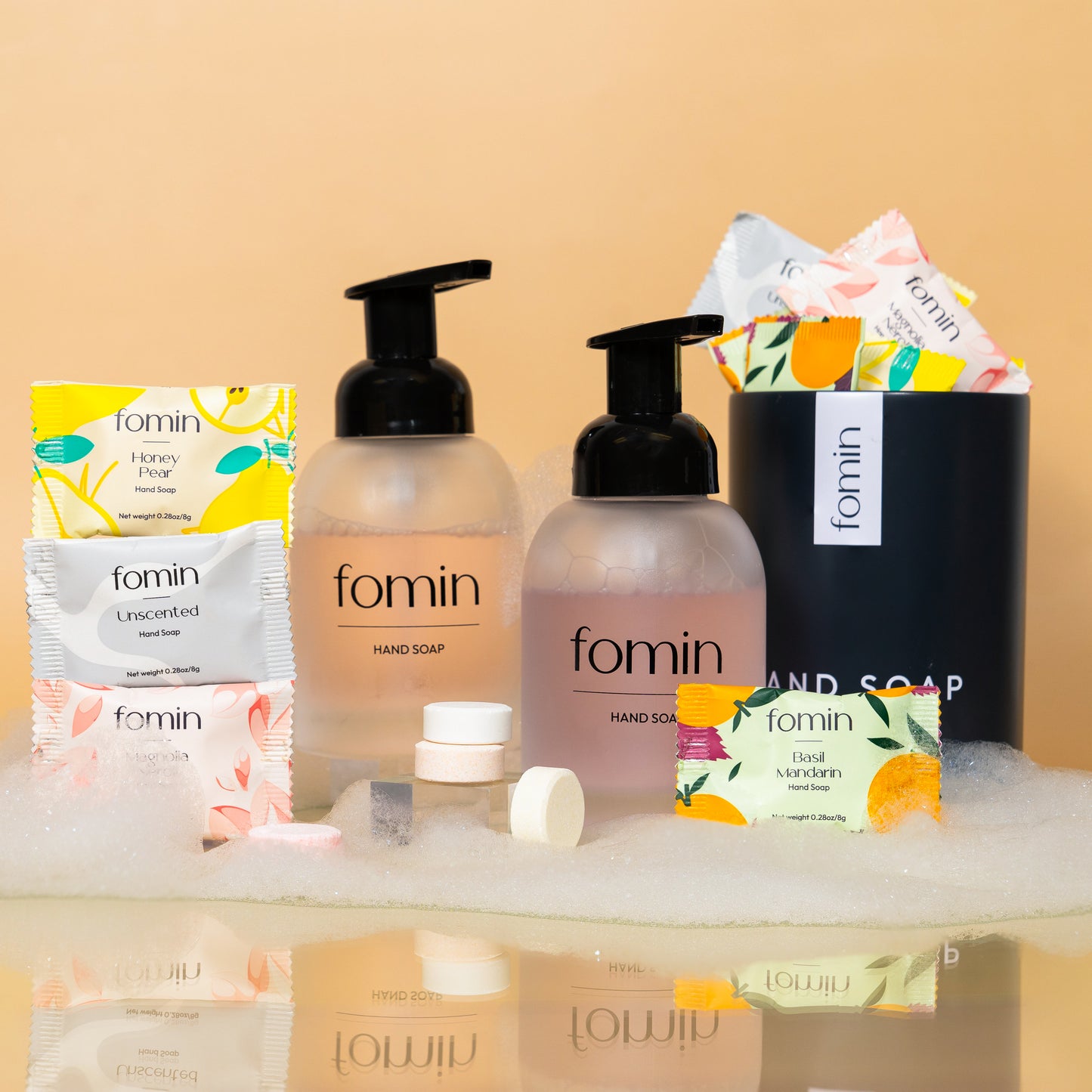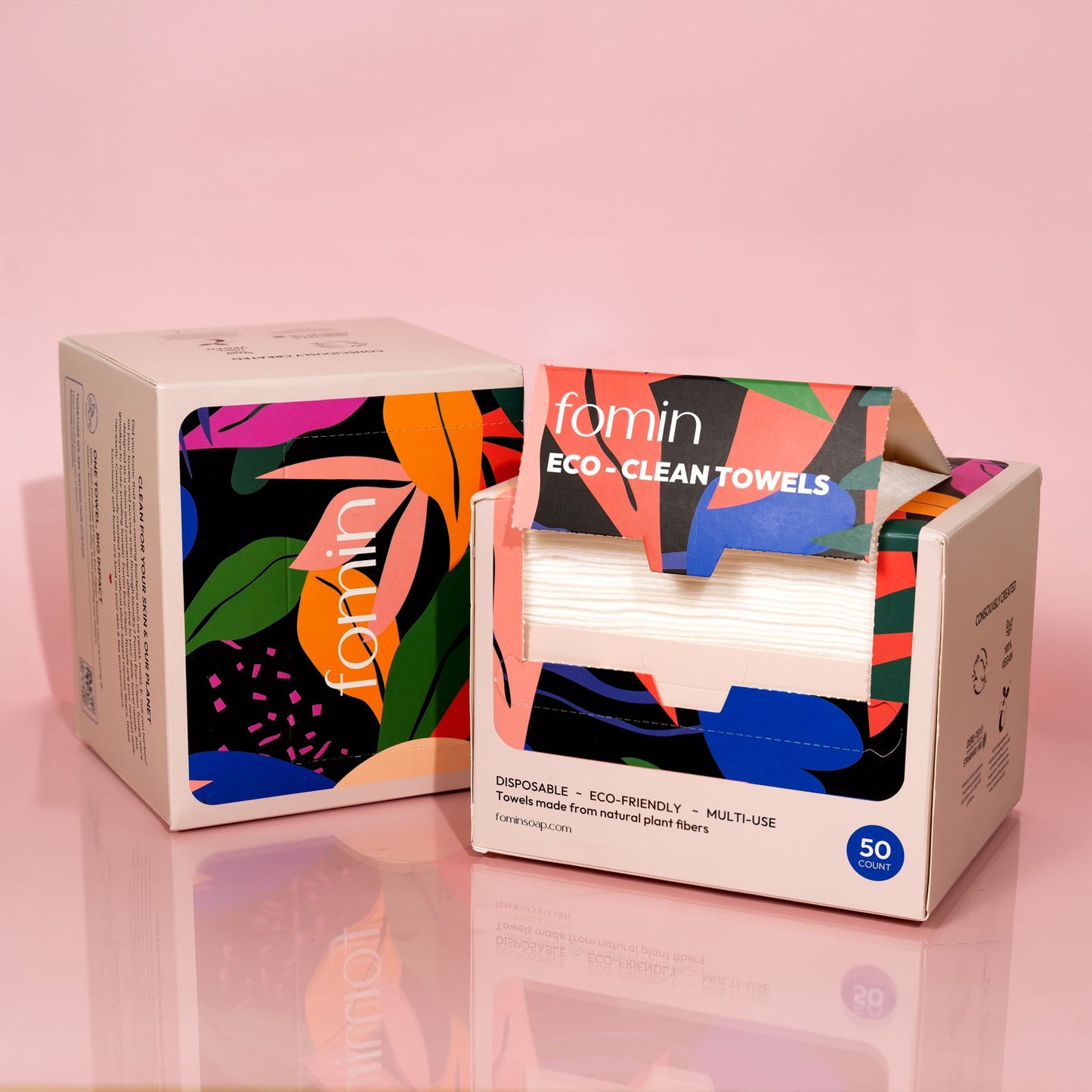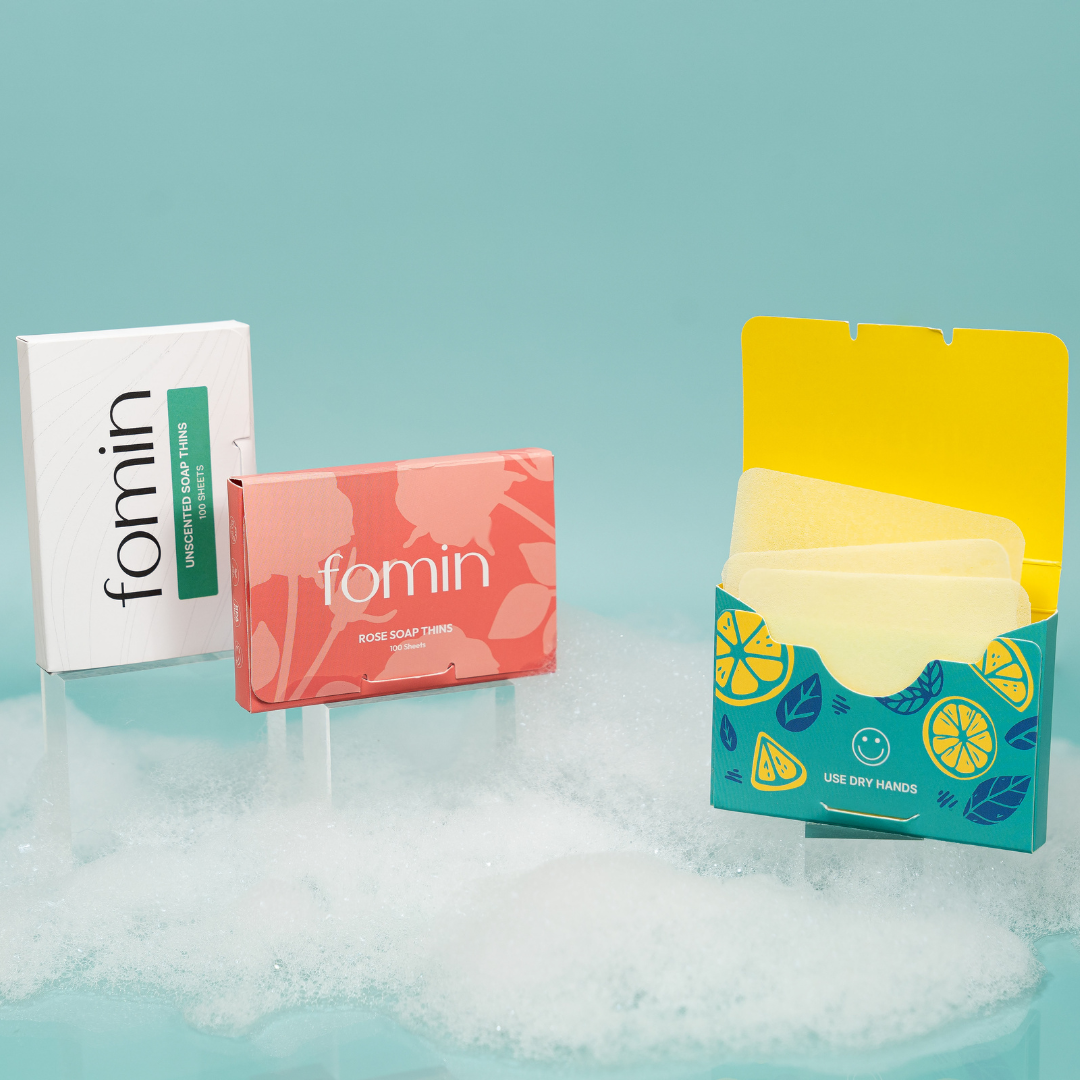 What's in the Welcome Kit?
Fomin Duo Kit & Storage Tin
Upgrade your handwashing with our sleek Fomin Duo Kit. It includes two elegant frosted glass soap dispensers that add a touch of class to any sink, alongside eight delightful soap tablets in four rich, savory scents. Keep them all organized in the chic, Fomin Storage Tin.
50 Pack of Eco-Cleaning Towels
Unbox our set of 50 eco-cleaning towels and discover the gentleness they offer. These biodegradable and skin-friendly towels are not just kind to the planet but also to your skin. They're robust enough for daily use, making removing makeup a breeze.
3 Packs of Fomin Soap Sheets
Stay clean wherever you go with our 3-pack Fomin Soap Sheets. Each pack is a powerhouse with 100 sheets of lathering, antibacterial soap that's perfect for your on-the-go lifestyle. They're compact, effective, and a travel essential for cleanliness.

Cruelty Free

Plastic Neutral
100% Compostable

Harmful Chemical Free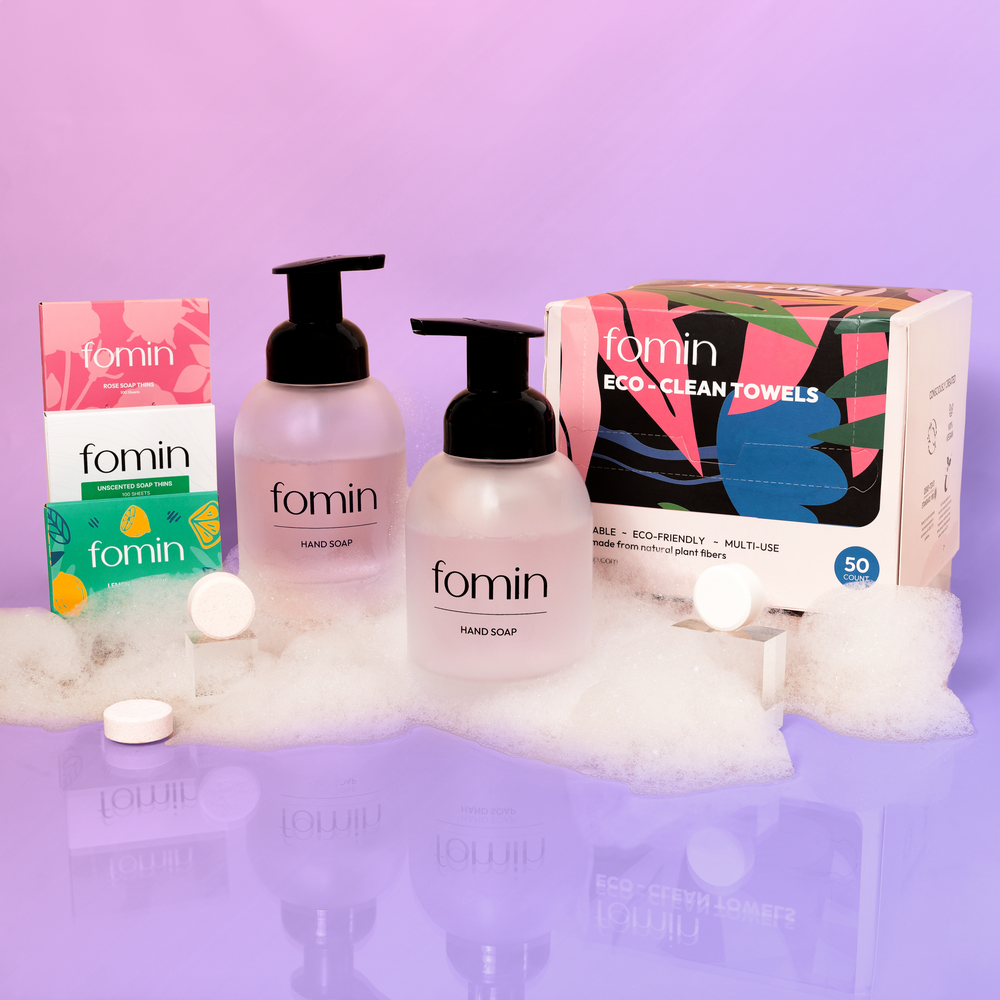 Are you as good as you say you are?
We will let our customers answer that one...
4000+ reviews
"Super Easy to Use"
These soap refills are super easy to use. Drop one in the reusable glass foam soap bottle, fill with water, let dissolve, and use. Wonderful soap without any added harsh chemicals.
Verified Purchase
"Small Products but BIG impact!"
I love companies that try to reduce the waste we are putting into our landfills. This product achieves that, and it has the perfect scent for soap. Definitely recommend.
Verified Purchase
"80 Uses, and Eco Friendly"
I love Fomin Soap Sheets so I thought I would give their tablets a try. Once the tablet dissolves in water it gives around 80 full foamy pumps. I appreciate not having all the plastic waste!
Verified Purchase
How It Works
Small change, MAJOR impact
1
Fill
Simply fill Fomin's frosted glass soap dispenser with water.
2
Drop
Drop your chosen scent into the bottle.
3
Enjoy
Let the soap tablet dissolve and enjoy!

Forget the Troubles & Pop the Bubbles!
Deodorant Wipes
Fomin Soap
Wipes
Pear Honey Soap
Soap Thins
What Makes Fomin Different?
| | Fomin | Competitor |
| --- | --- | --- |
| Eco-Friendly Cleaning Products | | |
| Leaping Bunny Cruelty Free | | |
| Products Come In Compostable Packaging | | |
| Plastic Neutral Company | | |
| Safe To Use For All Ages | | |
| Easy On The Wallet | | |
| 100% Money-Back Gurantee | | |
Frequently Asked
Questions
Who is Fomin? 🤔
At Fomin, we're a passionate bunch united by a simple belief: cleaning can be earth-friendly and fun! We adore splashes of vibrant colors and indulgent aromas, and we're all about turning the routine of cleaning into a joyful experience. Join us in making cleaning a delight for the senses and kind to the planet!
What is Fomin's mission? 😀
Join Fomin's movement towards a cleaner world—where less really is more. We're on a mission to infuse fun into sustainability and redefine cleaning as a joyful part of your lifestyle. With every product designed for minimalism and eco-friendliness, we aim to eliminate 5 tonnes of plastic from our oceans each year. Together, we can make a difference, one vibrant, fun-filled cleaning routine at a time.
How are we different? 😎
Dedication to sustainability, offering innovative products like on-the-go soap sheets and multi-use eco-towels, all while actively fighting plastic pollution by preventing ocean-bound plastic bottles from harming our oceans with every purchase. Our commitment extends to cruelty-free practices and compostable packaging, ensuring high-quality, environmentally responsible cleaning solutions.
What is PlasticBank? ♻️
PlasticBank combats ocean plastic pollution by empowering impoverished communities to exchange collected plastic for income, fostering both environmental and social sustainability through a transparent, blockchain-secured recycling ecosystem.
What does plastic neutral mean? 🧴
Plastic neutrality is a commitment by a company to offset its plastic footprint by recovering or recycling an equivalent amount of plastic waste from the environment as it uses, aiming for a net-zero impact on plastic pollution.
Are soaps easy on sensitive skin? 🧼
Fomin soaps are crafted with natural ingredients and free from harsh chemicals, making them gentle and soothing for the skin while offering eco-friendly benefits.
Where are Fomin products made? 🌎
Fomin designs all its products in California. Fomin responsibly manufactures in both the USA as well as China.
Where is Fomin located? 📍
Fomin was born in Canada but is now located in California.